Life is beautiful keep smiling
Great experience teachers are teaching in Yoga, Pranayam, Mudra, Mantra, Meditation, Sound healing, Chakra healing. meet our teachers. 
Welcome to Yoga School Nepal
"Yoga is for everybody." Yoga is done all across the world, including Nepal, where it is almost universally practiced in both cities and villages. Nepal is a stunning location for yoga visitors and is rich in both nature and fauna. Come experience the tranquility and beauty that warmed the hearts of yogis and inspired the rishis. Discover the traditional culture of rural Nepal while cultivating your inner stillness. You may easily take a trip to the mountains, rivers, and waterfalls from Yoga Pathshala (School) while learning the names of the local plants and animals. Learn how to use the Ayurvedic herbs that are blooming at your feet. Practice yoga and meditation in a serene, beautiful setting.
People today tend to lose our inner identities, old civilizations, and ancient beliefs. It would be an honor to exhibit visitors the traditions of Nepal that are being preserved by Yoga Pathshala (School) We will serve you scrumptious, traditionally made Nepalese food if you come over to our house. You'll appreciate it, go away feeling renewed and connected.
Who is Niru?
Niru was raised in a rural Nepalese hamlet where she learned the fundamentals of farming. She chose to become a social worker later in life. She recently got married and has two children. Niru is a wonderful woman who is renowned among the visitors for her warm welcome and contagious grin. She enjoys cooking for guests and providing for them in whatever manner she can.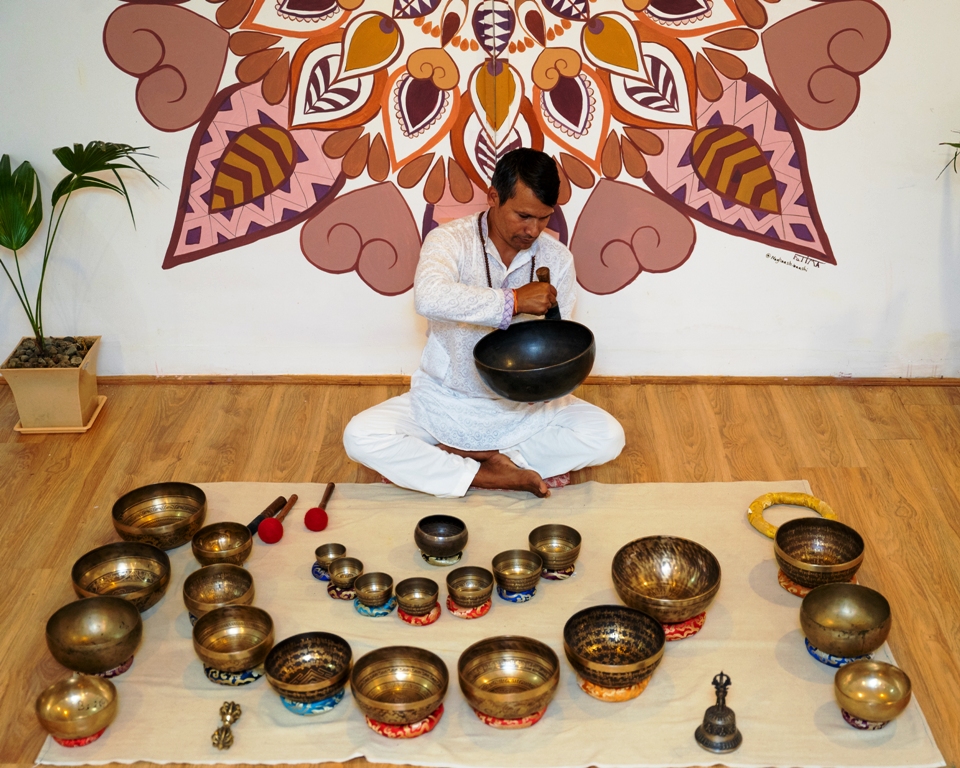 WHERE IS THE YOGA SCHOOL?
The yoga pathshala is located in Nepal in the village of Nagarkot, a small town situated in the beautiful Kathmandu Valley just 19km from Kathmandu airport & 5km from Bhaktapur City and 11km bellow from Nagarkot Hill Station.
Nagarkot is also just 4km from the world heritage site in Bhaktapur. A 10km drive takes you to the peak of the hills, which is famous for its sunrise and sunset views as well as the snow capped Himalayas.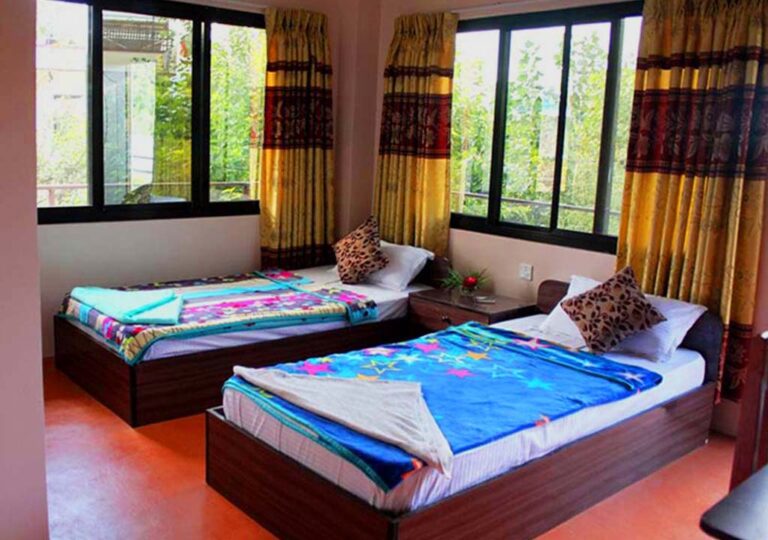 WHAT CAN BE FOUND AT THE SCHOOL?
At the yoga school you will find a yoga hall, meditation area, supply of hot water in the rooms, nutritious traditionally prepared food, wifi, several fruit trees and a backyard garden. The homestay will be of your service in any way possible and it organizes e.g. Himalayan yoga retreats, jungle trekking, bushwalk, campfires, bird watching, cultural programmes, rafting, tour packages, pickup and drop off services. for booking click here. 
Please note: Niru Yoga Homestay hiking retreat and yoga pathshala is a same owner and same place. 
Yoga Guru, Rajan Bastola
Profile of the chief instructor of the Niru Yoga Homestay with yoga retreat center, Bhaktapur Nepal.
Oner of Yoga Pathshala (School) Nepal.
Yogi Rajan Bastola
Yoga Teacher, Affiliated with the Yoga Alliance Nepal, Australia and USA, currently the master at Niru Yoga Homestay with yoga retreat center, Yoga Pathshala, Nagarkot yoga homestay with yoga retreat center in Nagarkot, Bhaktapur, Nepal.
Father: Hari Prasad Bastola
Mother: Kamala Bastola
Date of birth: 1982 April 9. This is the day when the tradition of Lokayata Rishi Kapil was born in the Vedic era whose ideas were followed by Jainism and Buddhism.
Place of birth: Nagarkot 1, Bhaktapur, now Changunarayan municipality ward no 6, Bhaktapur.
Education: Bachelor in Information Technology (BIT)
Philosophy: Compassion, resilience and inclusivity in practicing to love the juniors and respect the seniors without any self interest.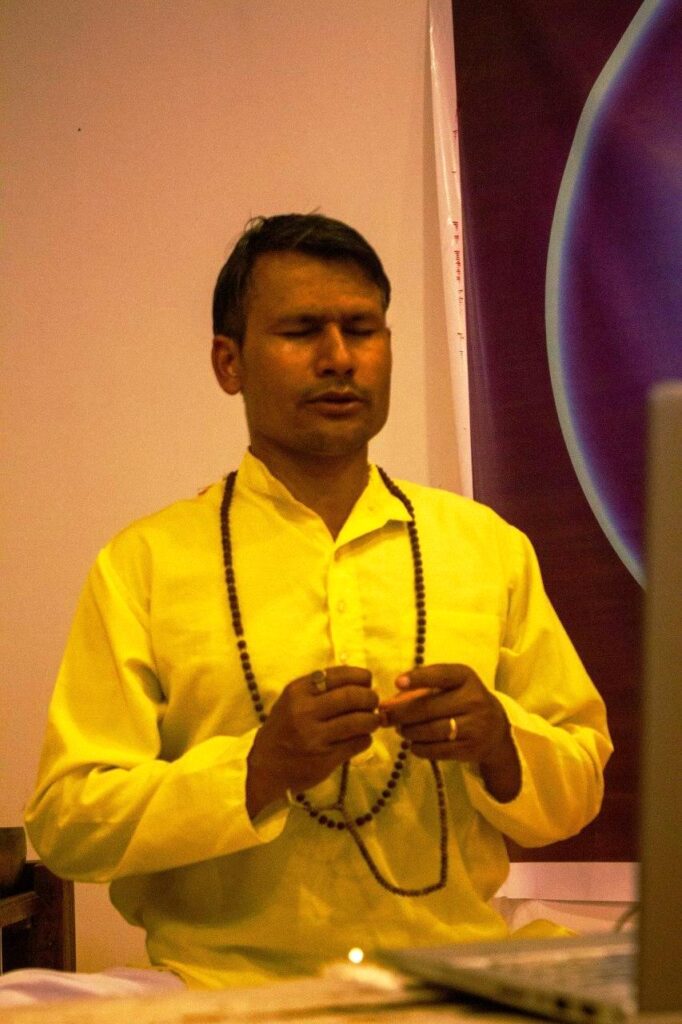 Engagement: Community development, peacebuiding and yoga teaching to various national and international participant.
Specialization: Yoga and the traditional Vedic philosophy, Gymnastics and acrobatics, Healing for traumatized including life skill for sex-negative, homophobic, transphobic, and Lesbian, Gay, Transgender, Bisexual and Queers communities (LGTBQ), transformative peacebuilding, inspiring and motivational workshop, arts of living.
Exposure: Yogi Rajan was inspired by the Padini tradition of Yoga and Taoism. In the pursuit of knowledge, he travelled in the Himalayas and the Indian continent. To share ideas and experiences, he is currently the in-charge of the Niru Yoga Homestay with yoga retreat center and yoga pathshala in Bhaktapur, Nepal.
To note:
1. He practiced Yoga while he was 15 years of age and a vegetarian since then.
2. His practicing profession is more than 25 years in counseling, physiotherapy, psychotherapy and spiritual intelligence.
3. He is the vanguard in Nepal to open the first school of Yoga with home stay facility.
4. He is the one who is training the practitioners at an altitude of 4500 meters under the Survival Himalayan Yoga Trekking program for 2 weeks.
5. He is an expert in general Yoga practice, breathing exercise, meditation to enable students to deal with trauma, resilience skill, negotiation , mediation and reconciliation.
6. He trains moon-watching, vipasyana, stars-watching, sun-watching, astronomical impact, universalism, and other extra terrestrial practices in the Himalayan hinterland.
7. He employs Sound therapy (recital of the Vedic mantras and use of singing bowl and other musical instruments), Physiotherapy (Yoga and nature hunting with cultural dancing events), Touch therapy (like Reiki),Cosmic therapy (building bonds irrespective of the social taboo), Spiritual therapy (reigniting faith in a human person) in a collaborative protocol to ensure the restoration of the power of body and soul.
8. Niru Yoga Homestay has retreat courses for 4, 6 and 15 days.
9. The Survival Yoga Trekking at 4500 meters is an exemplary program.
10. Beautiful home with rooms full of all facilities and a kitchen garden in the backyard to provide organic vegetables and fruits is another point of attraction.
11. Yoga Guru, Rajan, as a humanitarian, conducts free Yoga clinic in the neighborhood communities and in the schools.
12. He has a plan to establish an exemplary Yoga school in Nagarkot, Bhaktapur.
13. Bhaktapur district is the first Yoga district of Nepal. Yoga Guru, Rajan aims to enhance this heritage and glory.
14. Yoga Guru, Rajan is the founder President of Nepal Red Cross Society, Nagarkot. Currently he is working as an advisor for social causes.
15. He is also the founder President of Nepal Dandibiyo Association of Bhaktapur.
16. He is also engaged in IT sector since 1998. Currently he is the Chief Executive Officer of the Nepal One Hosting Company. His writings are available in the internet as well.
17. He was the President of a program, Save the Herbs, to enable practitioners to use herbs as an alternative approach to deal with physical and psychological complication.
You may know Yoga Guru, Rajan better when you meet him. His aura might tell you more than words.
contact number: +9779851106408